Hi there, and happy Feel-Good Monday!
---
This is where we share our favorite tips, tricks, secrets, and ways to "think like a healthy person" so that you can find your own delicious path to healthy living.
"Feel-Good Mondays" are meant to help us get back into that place of feeling energized, nourished, and ready to take inspired action for the week ahead.
---
You may be surprised to know that what you eat can actually help protect you from sunburn! And unfortunately, the opposite is also true: a diet filled with sugar and processed foods actually makes you more sensitive to the sun.
We don't talk about this much in our culture. We tend to be so obsessed with sitting in the shade, wearing sunscreen, or wearing hats to keep our skin protected. But I actually believe that one of the most important factors in protecting your skin is what you put INSIDE your body.
In the last of my "Skin Food" video series with skincare expert Cecilia Wong, we talk about foods that truly help give you an extra layer of sun protection. Check it out to help protect your skin from future damage!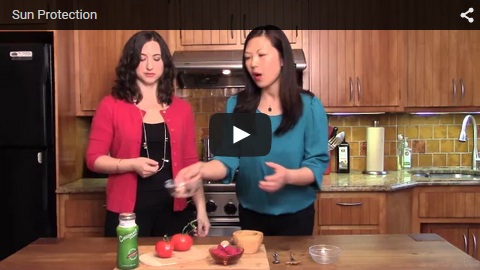 Be sure to check out videos One and Two if you haven't already. Cecilia and I review foods to clear up acne and, a personal favorite, botox alternatives!
Have you tried any of our skincare tips? What did you think? Share your skin stories, tips, and secrets with us on our FB page!
You can feel good every day. And we are here to support you.
And the Moss Wellness Team