Hi there, and happy Feel-Good Monday!
---
This is where we share our favorite tips, tricks, secrets, and ways to "think like a healthy person" so that you can find your own delicious path to healthy living.
"Feel-Good Mondays" are meant to help us get back into that place of feeling energized, nourished, and ready to take inspired action for the week ahead.
---
I'm so excited to introduce you to a 3-part video series that I've been working on with my friend Cecilia Wong, founder of Cecilia Wong Skincare.
You've probably heard of Cecilia before. Her organic skincare line has a cult-like following, is constantly featured in magazines and blogs, and she is the skincare expert to many devoted celebs and fashion designers. Despite Cecilia's celebrity status, she was willing to get down and dirty with me in my kitchen, where I was slathered in all sorts of delicious foods for the sake of skin experimentation. Oh, the sacrifices I make for you 😉
In this series, we talk about the skin issues our clients so often ask us about: how to naturally clear up acne, how to reduce wrinkles through our diet, and how to get natural sun protection through food (!).
In this first video, Cecilia and I review what foods to reach for (both internally and externally) to clear up stubborn acne and blemishes. Check it out!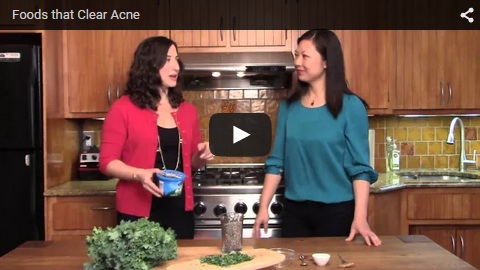 Stay tuned for 2 more videos over these next 2 weeks that'll help you get the glow — naturally.
Have any tips you've tried on your skin that you swear by? I'd love to hear from you! Post it to our FB page to get the conversation going.
You can feel good every day. And we are here to support you.
And the Moss Wellness Team