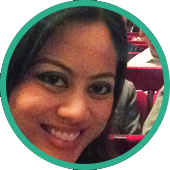 Before I worked with Andrea, I juggled a balancing act of issues with my thyroid gland for over a decade. Working with Andrea Moss since the fall of 2012 has proven to be THE BEST INVESTMENT IN MYSELF and put me on a transformational personal journey path that became so much more than just "eating right" and "taking my vitamins regularly."
Since working with Andrea, I discovered my own allergy to dairy and gluten sensitivity which literally flipped my world upside down – this is coming from an LA girl who LOVES her breakfast burritos filled with cheese, wrapped in a warm tortilla. I've also gained a strong awareness how varying aspects of my life: career/work, family/friends/coworkers and the people in my life and how they can either support or impede my own personal growth. Setting goals every month through my sessions with Andrea have proven to help a Type A person like me stay focus on incorporating new lifestyles adjustments making these changes all the more manageable and attainable.
Looking back on the last 2  1/2 years it truly has been a transformational personal journey. I am so thankful to have made the investment in myself to increase my own awareness of the incredible link food plays in health, spiritual and mental wellness.
Andrea is knowledgeable, caring, attentive, detail-oriented and has a very personable caring approach to every session. She is a fantastic listener! Each session felt like catching up with a best friend you haven't seen in a while and through her probing coming out and realizing how much life can change, evolve and adjust between sessions.
I look forward to each of my sessions with Andrea and could not recommend a better nutritionist and life coach to help guide you through your own undiscovered self.
Jayne A.